Wholistic Body Logix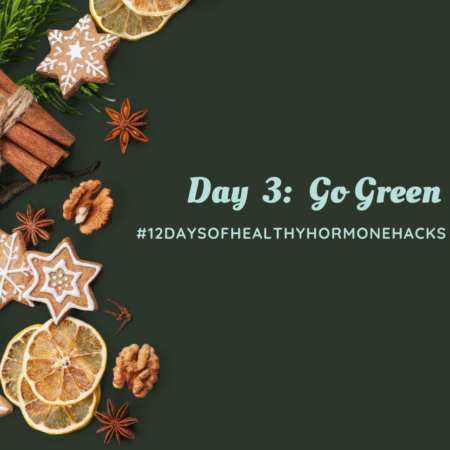 Day 3 – Go Green
During the holidays, inflammation is on the rise as we indulge in different foods or beverages that might have a more inflammatory effect on the body, from toxins we encounter while traveling and as a result of any mental or emotional stress we might experience this time of year.
Inflammation is at the root of all hormone dysfunction or any chronic disease.  It drives cortisol out of rhythm, creating a negative domino effect on other hormones such as estrogen, progesterone, testosterone and thyroid. And over time, chronic inflammation, even at low grade levels, can overwhelm the immune system, kicking it into overdrive and eventually leading to autoimmunity or other chronic conditions.
Sure you're going to indulge, with it being the holidays, and you can't always control your exposure to toxins or the need to travel, but there are things you can do on a daily basis to calm down the inflammatory fire.
To help you reduce inflammation on a daily basis – GO GREEN!
One cup of green tea has an abundance of anti-inflammatory effects that can positively impact your hormones and even your gut health.  EGCG is the active ingredient in green tea which modulates genes to produce an anti-inflammatory effect.
To keep that inflammation fire contained, aim to incorporate a cup of green tea daily during the holidays.
This is such an easy task!  You can grab a cup of green tea almost anywhere while on the road or in an airport, or pack your favorite green tea brand to always have with you.  It's the perfect drink to start your day or keep you warm when it's cold outside.
As I mentioned in tip 1 when talking about filling up with fats to keep your hormones healthy, one of my favorite fat bomb beverages is a matcha latte with full fat coconut milk and 2 teaspoons of vanilla bean ghee.  This keeps me feeling full and energized for at least 4 hours, plus has all the added anti-inflammatory benefits.
Go with green tea this holiday season to keep that inflammation under control for healthy hormones.
***
For the next 12 days, make sure you're following me closely on Facebook and Instagram or join my FREE group Sexy & Sassy Menopause to catch the rest of my, 12 Days of Healthy Hormone Hacks for the Holidays!
P.S. Turn on your Facebook and/or Instagram notifications for my pages so you don't miss a single simple tip to keep your hormones intact this holiday season, AND remember to save the posts for future reference!