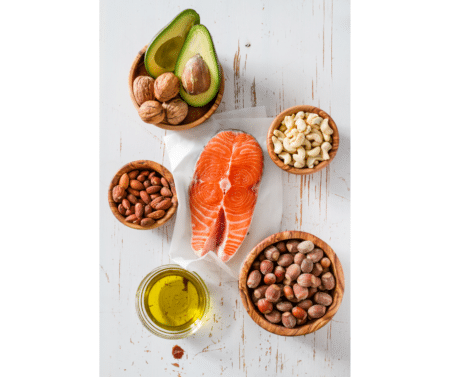 DON'T LET MENOPAUSAL FAT WEIGH YOU DOWN
During menopause your doctor may have said cut down on fat
Or you may have high cholesterol or heart disease that runs in your family
All of these are reasons to be concerned about the fat in your diet.
But ….
HOW DO YOU FIGURE OUT WHAT IS GOOD FAT versus WHAT IS BAD FAT?
AND WHEN YOU FIGURE THAT OUT HOW MUCH OF THE GOOD FAT IS GOOD OR BAD?
AND THEN HOW DO YOU MAKE THE CHANGES?
It seems unending and ever changing.
It is- and after menopause hits it's even more critical to make basic dietary changes you may have been avoiding for most of your life.
Getting a handle on fats is not guesswork….
It's a system
Specific guidelines BELOW that you can apply to your daily diet routine to help you get a handle on fats.
I use them regularly to benefit my health and not weigh me down.
So let's make friends with fat
Fats are also known as lipids and come in a solid form –what you see on the edge of your steak
or they come in a liquid form usually known as oils.
Fats are found in meat, dairy, nuts and seeds, olives peanuts and avocados to name a few.
Fats are an important component of our diet and a minimum intake is essential.
They are the first and foremost source of energy in the body-
Fats act as a protective shielding for the organs from trauma and cold.
Fats support and hold in place the heart and kidneys and deposit near the skin to prevent heat loss.
The fatty acids keep our cells strong to protect against invading microorganisms or chemical damage.
Get the picture?….
We need fat to live healthy – what we need to know is how to manage the fat.
So how much fat is good for you?
Most women can safely consume 20-30% of their calories from healthy sources of fat.
That's 40-70 grams on an 1800 calorie per day eating plan.
Men you can go a bit higher due to body weight and mass-25-35%.
So the plan I use below is one of the tools I use and has helped me to gain control of my menopausal weight gain.
Fat Swaps for Weight & Health:
CUT SATURATED AND TRANS FATS OUT OF YOUR DIET:
Experts all agree cut out the burgers, fries, pizza, ice cream, cheese and sweets made with butter, shortening or margarine from your diet.
There is a clear benefit from replacing unhealthy fats with healthy ones.
SWAP – Poultry, Fish and Nuts
DON'T OVERDO CARBOHYDRATES:
A high-carb diet can cause trouble for the estimated 25 percent of Americans who have insulin resistance.
Too many carbs will raise your triglycerides, lower your HDL and raise LDL increasing the risk of Heart disease.
SWAP: whole grain carbohydrates such as quinoa, millet, vegetables and fruits instead of refined products like bread, soft drinks and sweets.
(Kind of a no-brainer!)
RAISE THE RATIO OF POLYUNSATURATED FATS TO SATURATED FATS IN YOUR DIET:
SWAP: Use more Avocado oil, Olive oil, Sesame oil and Ghee in your diet instead of eating meat, cheese and milk.
EAT MORE COLD-WATER FISH: Studies have shown that fish is better than red meat protein to manage weight and health.
SWAP: Eat salmon, Herring, Trout, or Cod
at least 2 – 3 times per week for the omega-3 fatty acid content.
EXERCISE REGULARLY: I know this can be a struggle for some but I found that by shifting my exercise mindset made all the difference – I didn't need to exercise to exhaustion.
SWAP: Studies show that combining exercise with a fat balance plan you can reduce your risks of fat related illnesses. Try Yoga, Pilates and Strength training
Tricks I use to ramp up my progress are >>>
I substitute chicken,fish or vegetable stock for half or for the whole amount of oil called for in a recipe.
I WATER-SAUTEE food instead of stir frying it in oil. Put about ½ to 1 cup of water or stock into a wok or skillet and bring it to a rapid boil. Quickly add vegetables and keep stirring over a high flame until done.
Onions sauteed in their own juice and pureed with light miso make a wonderful onion butter which is great on WHOLE GRAIN toast or SPROUTED bread instead of using real butter. The same thing can be done with most vegetables. Be creative with this one!
I use apple butter as a great no-fat spread for when I have a sweet tooth.
I use ALMOND or hemp milk for gravies, soups, and any dish that calls for milk.
Tofu pureed with lemon juice makes a great mock sour cream. Yum!
Ok so say you are already doing all that and ….still no weight loss.
Then hormones and stress may be to blame and it is time to speak with a Functional Health Practitioner like myself to get access to the right lab tests and customize a health protocol designed just for you and your specific health concerns. There is no magic bullet and no one size fits all approach. So if you are ready to take the next step in your health journey then I offer you a health strategy call to address your personal challenges and goals. Book your call here.
 #MenopauseWeightGain; #MenopauseDiet; #MenopauseWeightLoss #womenover50; #ExerciseRoutine; #healthychoices #womenempowerment; #Healthconscious;
#HealthyHabitsForLife; #LoveYourBody;
#MindfulLiving; #HealthyFoodChoices; #weightlossfoods;