Hi, I'm Jeannine! I haven't introduced myself to many of you yet, so I wanted to pop in to say "hi" and share a bit about me if you don't know me in real life.  
1. I was born in February so I love winter sports activities like skating, skiing and tubing.
No one believes my age! I am working it!
3. I grew up in Massachusetts and every year we would spend a portion of the Summer on Cape Cod so my love for the ocean and collecting shells started when I was young and it's still my Happy Place! (This is me at the Jersey Shore)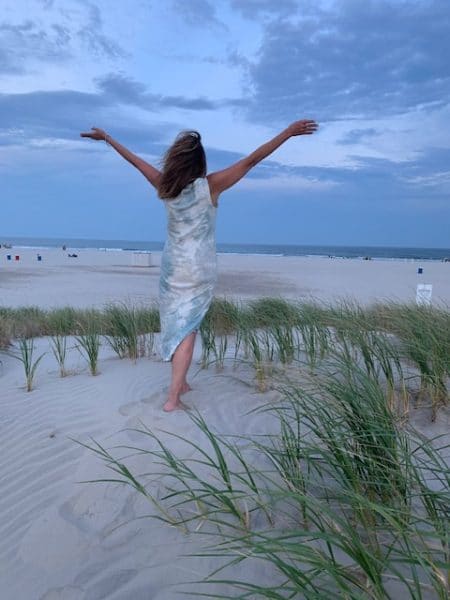 I adopted my beautiful, smart, funny daughter 12 years ago from China. I call her my "China Doll". I am so proud to be her mom.

5. I met Rob 13 years ago, he has been a great dad, partner and friend over the years.

6. We have 2 cats – a grey tabby named Tony – who is cool and aloof but comes out of hiding for the occasional hug and an adorable orange tabby named Maxi who we adopted just over a year ago when she was just 5 weeks old and found under a porch. She is so playful and sweet.
It's important for me to spend time with nature…it fuels the soul and energizes me. I always feel at peace after being outdoors.

8. I've had gut health issues for most of my life without really addressing them until I took charge of my health by treating it naturally. I'm so grateful for my gut health journey because it led me to change my career path from the Fashion Industry executive to becoming a functional health coach – helping others get their health back – a job I am so passionate about! 

9. My all-time fav movie is Titanic and I don't mind saying so!

10. I love cooking and experimenting with new and different foods. It is like therapy after a long day ….. make me feel very zen.

11. Every morning is ME time….Tea, yoga, journaling and meditation- gets me in the right frame of mind to take on the day and helps to make my day more productive.
 
Now back to you! 
xx Jeannine