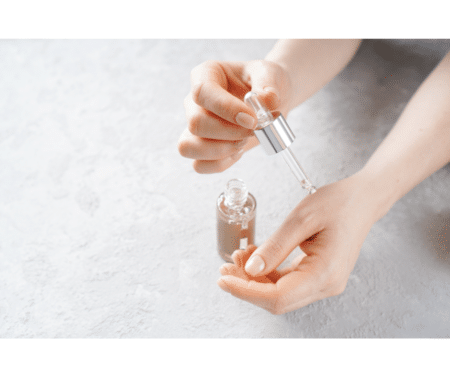 CASTOR OIL …..My Menopausal Secret Weapon!
You read that right!
Sounds like something you might have heard your grandmother talk about …..
what's old is new again.
Castor Oil is my go to when dealing with a variety of menopausal symptoms that can rear their ugly head at any time. Ugh!
So, What is Castor Oil and why do I use it?
Well, to start with, the goal is to rid the body of as many toxins as possible on a daily basis.
We know that toxins are all around us….
In the foods we eat
Air that we breathe
Water we drink
Beauty products we put on our body
The conventional products which fill our drugstores and grocery & department store shelves are often packed with ingredients that may be doing more harm than good. The sad truth is, a large variety of beauty products contain a long list of toxic additives, including carcinogens and endocrine disrupters.
All of them cause internal stressors that become chronic over time and contribute to diseases.
 Oils, including olive, castor and coconut, are rich in vitamins, minerals and antioxidants. This means that they not only moisturize, hydrate and replenish, but in terms of your skin, they will also offer anti-aging properties.
Castor oil is not as well known as the other oils but it is high in vitamin E, minerals, proteins and even beneficial fatty acids making it great for both your skin,hair and Liver!
So how can castor oil help you? Here are 5 ways I use it
 1- Enhance natural look of your hair
Locking in moisture, this oil is what's known as a humectant, making each strand of hair look that much healthier.
After I shower and towel dry my hair, I apply a small amount of slightly warmed castor oil, working it into the strands of my hair and voila…Soft and supple!
2-  Reduce Stretch Marks
Face it ladies…..at this stage, we ALL have stretch marks somewhere that we would like to get rid of.
Castor oil is high in what's known as ricinoleic acid, a fatty acid that helps target the appearance of stretch marks. Massage castor oil into the desired area and wrap with a cotton cloth, allowing the oil to penetrate the skin for 15 to 20 minutes. Repeat on a regular basis for three to four weeks.
3- Deep Clean your skin
Castor oil can help cleanse your pores. In order to benefit from its deep cleaning properties, mix a small amount of castor oil with jojoba oil (1:1 ratio). Massage these oils into your face gently, covering the entire surface of your face. After 10 minutes, wash your face with a warm cloth. This steaming process will help remove excess oil, dirt and other pore-clogging material.
4- Liver cleanse
Wow- this is my favorite. I know it sounds strange and antiquated but wait ….it works!
As we age, it's harder for our liver to metabolize, filter and excrete the toxins mentioned above. Long story short….your liver needs help and the castor oil pack works wonders. My favorite is Queen of Thrones castor oil pack – I use it 3x per week and what a difference!
5-  Combat lines and wrinkles
The fatty acids found in castor oil will penetrate deep into the skin, stimulating the production of elastin and collagen. It will also target dark bags and the appearance of crow's feet.
Since the skin around your eyes is so delicate, it's more prone to damage.
To apply, make sure you cleanse your skin, applying a small amount of castor oil around the edges of your eyes and forehead.
The benefits of Castor oil are endless and you will not be sorry once you try it…You may become addicted.
These are just a few of the many ways I keep my menopausal health under control.
If you are looking for support in your menopausal journey, I am here for you. I can help you with the right resources, lab tests and resources and protocol to take the guess work out of it and to get it under control just book your free health discovery call here
I would love to support you and help you feel like yourself again !
Xx Jeannine